familycare
Paediatrics
Family Medicine
Chair: Dr. Bernhard König, MD
Karl-Marx-Allee 82-84
10243 Berlin
Phone: +49 (030) 29 77 897-0
Fax: +49 (030) 29 77 897-13
E-Mail – Paediatrics: kinderarzt@familycareberlin.de
E-Mail – Family Medicine: allgemeinmedizin@familycareberlin.de
Website: www.familycareberlin.de
Location and directions – Gated parking facilities – optimised for our patents
– Enter from Koppenstraße only, press button to open gate
– Free parking in the patient lot (105-112)
– Exit to Straße der Pariser Kommune (clinic chip required)
Request your clinic chip for the gate from the registration desk before you leave!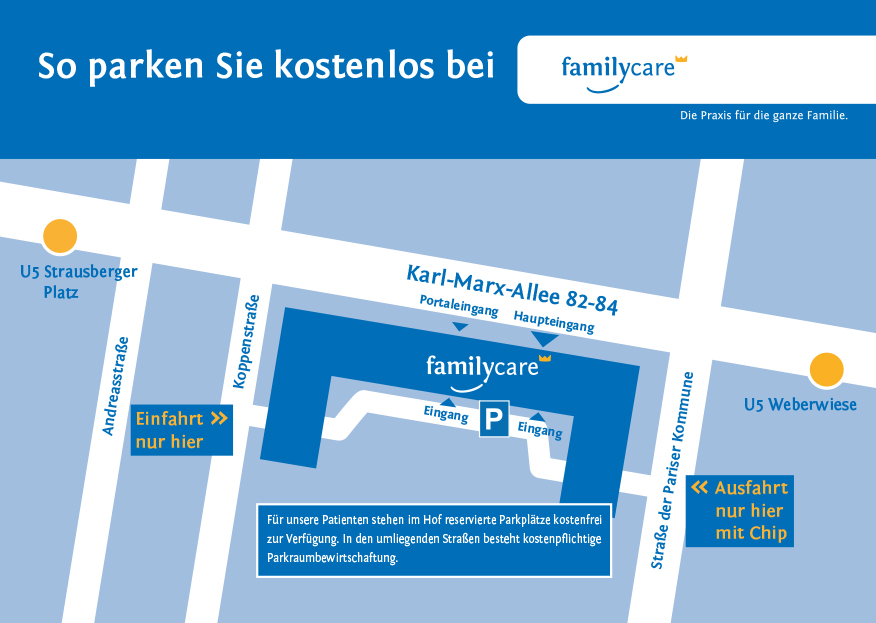 Free parking spaces in the lot reserved for our patients. The surrounding streets offer paid parking.
Nearby parking
You will find additional parking directly in front of the building in the lay-bys in the street, and in Koppenstraße and Straße der Pariser Kommune. Please use the marked parking spaces.
You can also enter the clinic at the back of the building. Our clinic is located on the 1st floor.